The best playing cards have great durability, handle easily, and feel great in the hands. There are many playing cards on the market, ranging from the low-end family-oriented playing cards to the high-end casino-oriented cards. Depending on what you plan on using them for, you may want to get paper cards or plastic cards.
Paper cards
Paper cards are playing cards that have been printed on some type of paper. Some manufacturers use special types of paper to produce a more durable product. Often times these cards will have some type of finish applied, whether it's plastic coating, linen coating, or in the case of Bicycle cards, an air-cushion finish. For most uses, the paper cards offer exceptional quality and value for a low price.
Easy to handle
Have that classic paper snap
Don't slide around; not slippery
Harder to shuffle than plastic cards
Get beat up quite easily
Can't be washed
Plastic cards
Plastic playing cards are more commonly used by the professionals and those who have using playing cards for a long-time. As with paper playing cards, these can range from low-end to high-end. The low-end plastic cards are great for playing with friends and family, but are a poor choice for a professional setting. The low-ends are made with a cheap plastic material that while feels and handles great, makes the cards prone to shattering or breaking. They can easily chip or even snap in half if dropped, slammed, or even if you mess up a shuffle. The high-ends, however, are made of high quality plastics like cellulose acetate plastic which are much less prone to breaking or chipping. The best playing cards are almost always plastic.
Resistant to scratching and bending
Can be washed
Easier to shuffle and pitch
Prone to breaking
Don't feel as snappy as paper cards
Usually more expensive
Top 10 Highest Quality Cards for Home
1) Kem Arrow Plastic Playing Cards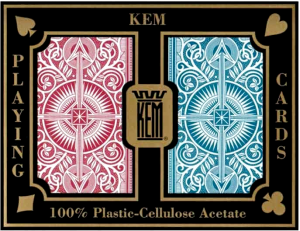 Arguably the best playing cards ever created, the KEM plastic playing cards are well-known for their durability, ease of handling, and having the best of both worlds. They handle like paper cards, but feel like plastic cards. Plastic cards usually lack the classic snap and feel of paper cards, but the KEM's have changed that. The only problem with these cards is the price, averaging $30 per 2 decks. But, they should last a very long time so you're definitely getting more bang for your buck.
2) Aristocrat Bank Note 727 Playing Cards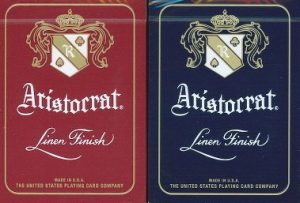 The Aristocrat Bank Note 727 Playing Cards are among the best of the best. These poker-sized cards are extremely easy to handle, fan with little difficulty, and just feel great in your hands. Definitely one of the best in the industry. The reviews don't lie either, averaging 5 stars out of 5.
3) Monarch Playing Cards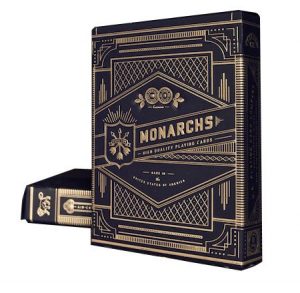 Quite possibly the most elegant playing cards ever made. The monarchs will leave you speechless with their back design. Thanks to their heavyweight paper composition, these cards not only feel great, but also last much longer than the average paper playing card life. If you are looking for a luxurious set of playing cards, look no further as the monarchs define excellence. Definitely deserves to be number 3 in the top 10 best playing cards.
4) Copag 1546 Playing Cards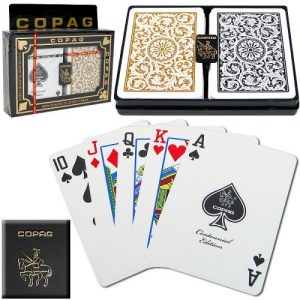 A great alternative to the KEM plastic cards, these offer virtually the same properties of the KEM's at a lower price. They handle and fan excellently. However, unlike the KEM's which are made from cellulose acetate, these are made from PVC plastic so there's a slight difference in how they feel. Regardless, they are one of the better playing cards on the market today. Plus, these cards come with a hard plastic storage and carrying case as a bonus.
5) Theory11 Artisan Playing Cards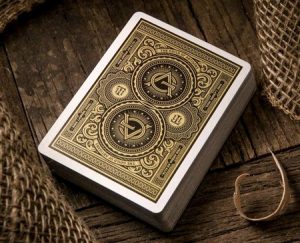 The definition of luxury playing cards, these cards are sure to impress your friends and family. With their stunning back design and elegant ace of spades, these cards are one of the best. Made from virgin tree fibers, these cards are sure to last a long time.
6) Arcane Playing Cards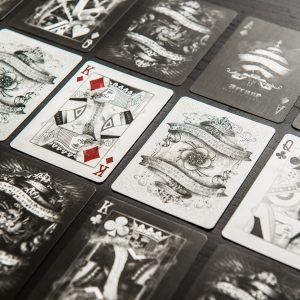 Available in white and black, these are some of the most well-designed cards ever produced. The artwork is incredible and whether you get the black or white version, it's sure to impress your audience. The black version features all black cards with white or red colors. The white version, however, features what looks like standard artwork, but is actually custom. The red is a lot darker and the face-art has been modified and just looks amazing.
7) Run Playing Cards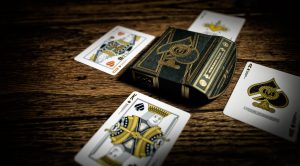 Featuring custom artwork, these cards just look great. They come in a very elegant box and have a luxury-inspired back. They handle and fan excellently. Probably the best use for these cards is magic tricks.
8) Bee Premium Playing Cards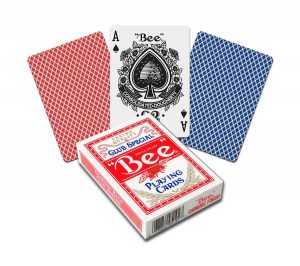 The bee playing cards are one of the best paper cards on the market. Their unique back design makes for some amazing fans. They feel great in the hands, and slide around effortlessly thanks to an air-cushion finish. But, they're not overly slippery. You can easily pick up a bunch of cards and hold them in place.
9) Bicycle Dragon Back Decks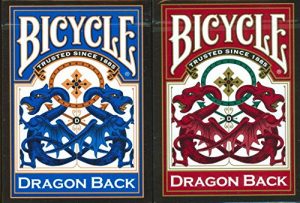 The dragon backs have an outstanding back design and are sure to impress when performing magic tricks. These cards are great for magic tricks as their back design captivates the audience's eyes giving you more time to do your tricks. The red dragon backs come with standard artwork, but the blue dragon backs come with standard artwork in a blue hue. Because of this, the blue dragon backs can be a great conversation starter when playing with friends and family.
10) Bicycle Standard Index Playing Cards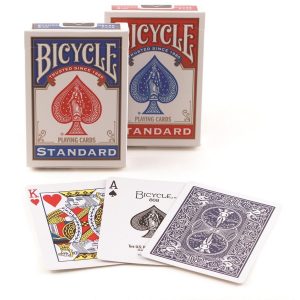 One of the most iconic playing cards, the Bicycle standard index cards offer great value for those looking for high quality cards without breaking the bank. Bicycle is a well-known playing card company and was founded in 1867. That's close to 150 years in the making.