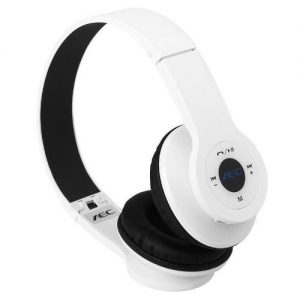 These Bluetooth headphones are great if you're looking for something portable. They're wireless so you don't have to worry about wrapping or unwrapping the wire every time you want to use them. It also allows you to simply put on the headphones at any time as you don't need to store the exposed wire in your shirt or jacket to prevent it from getting yanked on something.
Despite their cheap price, this is one of the best wireless headphones you can buy. The quality is great and the ear-pads are generously cushioned so you don't have to worry about discomfort with prolonged use.
And setting it up is really easy. After you set it up you'll no longer have to repeat these steps. Your phone will automatically pair with the headphones as soon as you turn them on. Just follow these instructions and you'll have to ready in no time.
Tip: Turn off bluetooth in your device when you're no longer using the headphones. If it stays on it can drain some of your battery.
How to use Bluetooth headphones with an Android phone/tablet
Open the Settings App. You can do this by swiping down from the top of the screen or going into all your apps and finding the Settings app
Tap Bluetooth
If your Bluetooth is not On, tap the Off to turn it On
Turn on the Bluetooth headphones if they're not already on
Your phone should be able to automatically find it
Tap on the headphones and pair it
How to use bluetooth headphones with your iPhone/iPad
Open the Settings App
Go to Bluetooth
Turn on Bluetooth if it was not already on
Turn on your Bluetooth headphones if they're not already on
Your phone will start searching for it
Once it finds it tap on its name to pair it with the device